Just Released! Back on Track After Weight Loss Surgery
---
A sobering fact is that it has been reported that up to 50% of people who have had weight loss surgery re-gain weight by 48 months after surgery.  Renowned surgeon and author, Dr. Thomas W. Clark, helps you learn how to use their weight loss "tool" properly and change their habits for good this time.  You can finally experience long-term success.
This book will explain how to: 
Determine the current size of your gastric pouch
Understand what your meal process should be and how to manage hunger
Manipulate your hormones for better weight loss
How to use your tool to lose weight effectively
Develop a plan that will work for you
Create an effective accountability system
Successfully work in a work-out
Get it right this time
 And much more!
What People Are Saying:
I would recommend this book to anyone who is struggling after having weight loss surgery.  I had gained 20 pounds (following cancer surgery and treatment).  I thought "I've got to try this".  I did and I am now back on track for life this time!  Dr. Clark is the master at simplifying exactly what to do.  You are not alone!  Marsha T.
I knew I was getting away from the things I should have been doing but I wasn't sure how to gain control again.  I had a 4 month plateau along with ups and downs with my weight.  I had lost track of what I was doing.  I needed to get back on track…fast!  Dr. Clark helped me do just that!  Not only did I lose weight but I now understand what I need to do (for life) without feeling deprived.  Sharon B.
 Download a copy for ONLY $4.99
Preparing for Weight Loss Surgery
In Book 2 of the MORE LIFE! Series, one of the most experienced Bariatric Surgeons in the United States provides you with a road map for your successful weight loss surgery journey — preparation for surgery, the day of surgery, and most importantly, living life after surgery.
Download a copy for only $9.99!
Your eBook will explain: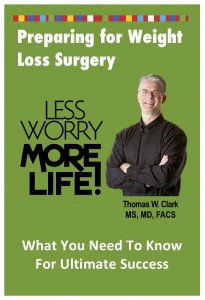 How to best prepare for surgery
What to expect at the hospital
What to expect following the procedure
How to optimize your success after surgery
And much more!
Is Weight Loss Surgery Right for You?
---
One of the most experienced Bariatric Surgeons in the United States offers a comprehensive set of important questions you need to ask when considering weight loss surgery along with inspirational stories from some of Dr. Clark's patients.
Your ebook will teach you: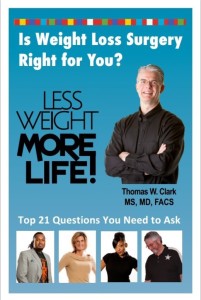 The latest weight loss surgery options available
How to determine if weight loss surgery is right for you
How to find a qualified weight loss surgeon & comprehensive program
What to expect after weight loss surgery
What you need to do for long term success
 And much more!
"You can't invest in anything else until you invest in yourself!"  Lawrence
"I don't have my old life back…I have a better life…a fantastic life!"  Rhonda
"I made a change and I am living life to the fullest and you can too!"  Keisha
"Dr. Clark and his great team have thankfully helped me save my life!"  Ken
"I have found my calling and I am blessed to see miracles every day. You deserve long-term success, happiness, health and a life that fulfills your dreams. Less Weight MORE LIFE! takes you through the top 21 questions you should be asking if you are considering weight loss surgery. Weight loss surgery is a wonderful tool, but it is the choice to take control of life, the courage to act, and the commitment to change, that leads my patients on this rewarding journey. You too can take the journey and get results…it starts with this book. Choose now — you are worth it!"
Dr. Thomas W. Clark
"Less Waist, More Life"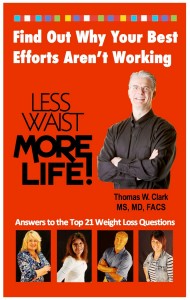 Take Control of Your Health
Develop a Weight Loss Plan for the Holidays with Dr. Thomas W. Clark
His Latest Book Offers Non-Surgical Strategy for Quick Results and Long-Term Weight Loss Success
PURCHASE YOUR DIGITAL COPY WITH THIS AMAZON LINK FOR ONLY $.99

Thomas W. Clark, MS, MD, FACS, weight loss expert, best-selling author and bariatric surgeon helps his readers take control of their health before the holidays and beyond by avoiding dreaded weight gain during the Thanksgiving and Christmas season.  Instead, he sets them on a path to long-term weight loss success with a plan they can implement immediately for quick results! In book 3 of the More Life! series, Dr. Clark provides readers with an innovative, motivational non-surgical plan they can follow for short and long-term success.
According to Kenny, local success story, "I was skeptical at first, but Dr. Clark's program is off the charts awesome!!  I lost 50 pounds in 3 months!"           
"Less Waist, More Life!  Find Out Why Your Best Efforts Aren't Working; Answers to the Top 21 Weight Loss Questions" available at www.amazon.com is a must have guide for anyone who wants to not only lose weight, but keep it off long-term.  It even includes two extra bonuses:  Dr. Clark's 7 Top Weight Loss Mistakes and 30 Tried and True Weight Loss Tips You Can Begin Today.
Dr. Clark is one of the most experienced bariatric surgeons in the United States.  He has dedicated his career to helping people successfully lose weight and keep it off for life.  In addition to being board certified in surgery and performing over 4,500 weight loss procedures, Dr. Clark is one of the elite few bariatric surgeons who also achieved an additional board certification in the field of Bariatric Medicine. This makes him one of the first pioneers in the United States to provide the full continuum of weight loss services for anyone who wants to successfully lose weight.