Non-Surgical Weight Loss
Jump Start Medical Weight Loss Plan: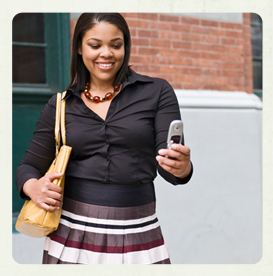 If it isn't possible for you to come to our center, we have a few programs that don't require a physician's visit and can help you "Jump Start" your weight loss.
Our 2 Week "Jump Start Plan" is a complete meal replacement program that you can purchase in our Nutrition Store or online through our e-store. All your meals and your meal plan are included in your purchase. The Enhanced Jump Start Plan also includes a supply of the recommended vitamin supplements. You can lose anywhere for 8-25 pounds in just 2 short weeks!
Do you want to "Jump Start" your weight loss with a more flexible eating plan that includes some traditional foods along with the protein supplements? The 2 week "Quick Fix" is the plan for you! Besides including your protein supplements this program gives you 3 shakes a day and one healthy low carb meal in the evening.  Order yours today!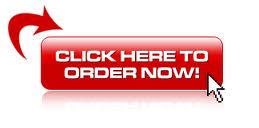 28 Day Weight Loss Plan
Our 28 Day Weight Loss Plan combines the convenience of a meal replacement with accountability and education for greater weight loss success!  This diet will help you:
Lose weight, between 10 & 30 pounds
Understand why you gained weight
Stop the progression of diabetes, high blood pressure & other co-morbidities
Boost your metabolism and turn on fat burning
Prevent fatty liver disease and encourage liver regeneration
Kick the sugar habit and diminish cravings
Control your appetite
Improve you A1c blood glucose levels
Encourage daily health practices
Understand how to manage your weight and improve your health for life!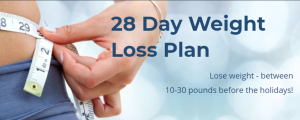 This plan includes: 2 Mini Jump Start packages, 2 individual counseling sessions, 2 LIPO+B vitamin injections, 2 bottles of Garcinia Cambogia, 1 bottle of Chromate, Dr. Clark's best-selling book Less Weight…More Life! and daily text support messages.
3 Month My Weight Loss Academy™ Online Program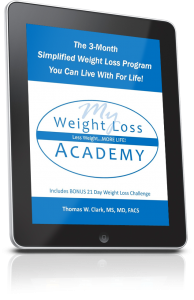 My Weight Loss Academy™ digital program. Includes immediate access to 14 modules of training (written material, videos & PDF action guides) conveniently available via your online membership site (access to all materials available for 4 months and downloadable for continued use). You can move at your own pace or follow the step-by-step program instructions you will receive each week/month via e-mail for accountability and easy to follow guidance.
Includes Bonuses: 21 Day Weight Loss Challenge, 6 Month Subscription to Losing Weight USA webinar series, Meal Planning and Journaling Templates, Online Recipe Book, Carbohydrate Counter Tool, Weekly Lifestyle & Behavior Modification Classes, and more!
For complete details: My Weight Loss Academy™
3 Month Weight Management University™ Program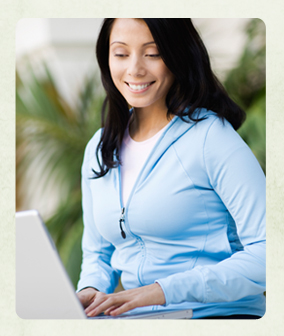 For your convenience, we also offer you a 3 Month comprehensive program that includes the Weight Management University™ curriculum. When you participate in this program, you will receive regularly scheduled appointments or private phone counseling sessions with qualified weight loss clinicians and full participation in the Weight Management University curriculum taught by Dr. Clark. Weight Management University™ is a comprehensive educational program offered exclusively at Dr. Clark's Center for Weight Loss Success. You will have free access to the Membership site where you will be able to retrieve your educational materials which are integrated into your  counseling sessions. The Membership  site gives you many educational and supportive tools such as recordings of your Lifestyle classes and Losing Weight USA webinars, fitness videos, journaling & menu planning templates, Doc Weight Loss podcasts, low carb recipes, and so much more. The education does not stop there. You also have access to our newsletters, Pinterest, Facebook, Instagram, Blog sites and more.
If possible, we request that when you first join our program, you come to Dr. Clark's Center for Weight Loss Success for the first few visits so that you can meet our experts face-to-face and complete your full baseline body composition and measurements. If you live a great distance away, we often are able to coordinate these services through your primary care physician.
We look forward to helping you meet or exceed your health goals!
Too many people start a weight loss program without giving careful consideration to what it will take to lose weight and get fit. Once you make the decision to begin a program, it can be difficult to determine the best way to begin. At Dr. Clark's Center for Weight Loss Success, we suggest you make an appointment for a free consultation (757) 873-1880 or success@cfwls.com
The on-site Virginia medical weight loss program includes all the necessary components of a comprehensive medically supervised weight loss program. This program includes:
WMU Online Courses taught by Dr. Clark
6 Individualized Counseling Sessions
Access to 'Membership Site'
Weekly Lifestyle & Behavior Modification Online Class
Unlimited Body Composition Analysis
Getting Started Package (sample 1 Weight & Inches Shake and 1 Snack Bar)
Subscription to Weekly Newsletter
Weekly Live Webinars with Dr. Clark
Rewards Card (credit toward future store purchases)
Start your successful weight loss journey today – call (757) 873-1880 today to view our non-surgical webinar!