Surgery Options & Eligibility
Eligibility:
If you are at least 50 pounds over your ideal body weight you may be a candidate for weight loss surgery. However, most insurance companies additionally require a BMI of 40 or greater or a BMI between 35-40 with other health problems such as diabetes, high blood pressure and/or sleep apnea. We are happy to help you determine the requirements you may have – it is our specialty! We have been helping people navigate their insurance requirements for over 10 years and we are happy to help you too!
Dr. Clark is currently a provider with most insurance companies.
Unbelievable Self-Pay Pricing that Includes a Full Year of Our Exclusive Weight Management University for Surgery Educational Program (individualized counseling, weekly lifestyle education classes, weekly fitness classes, online tools, and more!)
If you find you do not have insurance coverage for weight loss surgery, do not despair! We have partnered with the hospital and anesthesia and have the most competitive pricing on the East coast! In fact, we not only include the surgery, hospital costs and anesthesia fees – at the Center for Weight Loss Success, we also include an exclusive full 1 year Weight Management University for Surgery program that includes a comprehensive step-by-step educational program, all educational materials and classes taught by Dr. Clark and his team of licensed/certified professionals.  Believe it or not, the cost for everything begins at pricing below $14,000.00 – we are committed to your success and look forward to working closely with you for an entire year and beyond. The average weight loss after surgery for Dr. Clark's patients is 129 pounds!
Surgery Options:
Weight loss surgery is a personal decision and one that you need to be discuss with an expert like Dr. Thomas W. Clark. Having performed over 6,000 weight loss procedures, Dr. Clark is one of the most experienced bariatric surgeons in the United States. He will clearly review the options to determine what surgery may be best for you. Because he is one of an elite few bariatric surgeons who is also board certified in bariatric medicine, he will follow your weight loss closely and provide all of the services necessary to not only lose weight but keep it off for good.
Weight loss surgery is one of many tools we use to help you lose weight. At Dr. Clark's Center for Weight Loss Success we are not only committed to the highest quality surgical care, but also to your long term success. As a result, our comprehensive program is second to none in the nation and includes our exclusive Weight Management University for Weight Loss Surgery™ step-by-step pre-op and post-op educational program, habit modification classes (on-site or online) and fitness in a state-of-the-art facility that caters to people just like you.
At the Center for Weight Loss Success, our current surgical options include:
Sleeve Gastrectomy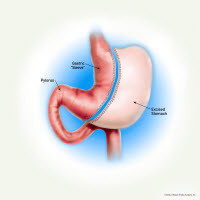 Sleeve Gastrectomy: A newer surgical procedure in which a small "sleeve-shaped" stomach is created. Approximately 75% of the "stretchy" portion of the stomach is removed. This also removes the portion of the stomach that produces the hormone ghrelin, which causes you to feel hungry. The remaining "sleeve" of the stomach is about the size and shape of a medium banana.
Lap Banding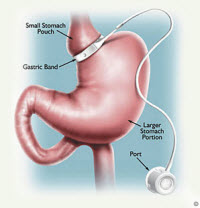 Lap Banding: A band is placed around the very top of the stomach. This band can be adjusted (tightened or loosened) by injecting saline into it via a port placed under the skin.
Banded Gastric Bypass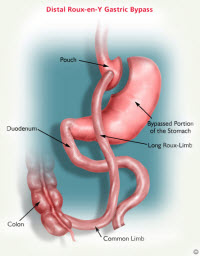 Banded Gastric Bypass: A very small gastric pouch is created from the proximal stomach and then the beginning of the small intestine is connected to it, "bypassing" the remaining stomach. Dr. Clark, the premier expert on gastric bypass in Virginia, additionally places a band at the distal end of the stomach to assist with long term success.
Ours is the most comprehensive weight loss program available anywhere. Because we believe so strongly that bariatric surgery in Virginia should be affordable, the Center for Weight Loss Success has the most competitive prices around. This, coupled with Dr. Clark's expertise, makes the weight loss surgery options at the Center for Weight Loss Success your prescription for long term weight loss success.