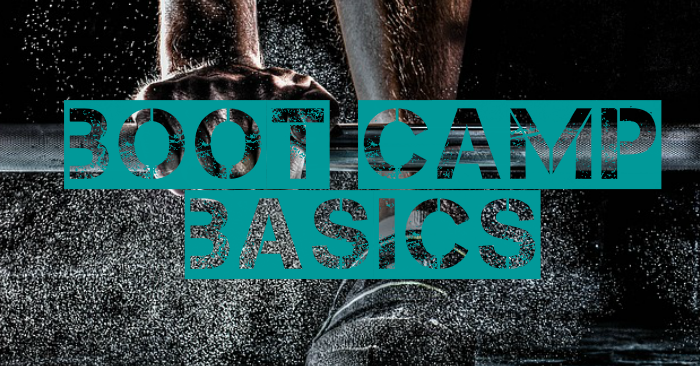 I've been a fitness instructor for 27 years. I teach 12 classes a week, 8 different formats, to clients of all ages and fitness levels. Class participants often ask about my favorite class format. I always hesitate because I enjoy all my classes, but my secret favorite is BOOT CAMP! Just the name sounds intimidating to most people. This class is a combo of cardio and strength training and torches fat and calories. But is it really for EVERYONE?
Many people tell me they will come to boot camp once they got in better shape! That seems oxymoronic since fitness classes are meant to get people in shape. The mind set is that the class is so challenging that it can't be attempted until a certain fitness level is achieved first. Well, I'm going to debunk that myth. First of all, we all have to start somewhere with our fitness level. You challenge yourself and do what you're able. I don't expect perfection in my classes. What I expect is effort.
Everyone needs to step out of their comfort zone and attempt the challenges. If it doesn't challenge you it won't change you. Safety is number one and it's perfectly acceptable to modify any of the moves. I have a variety of participants from beginners to triathletes in my class.
Boot camp is a great workout because:
1. Burns a lot of calories and promotes weight loss.
2. It's diverse, yet intense.
3. Most of the workout is timed so you can go at your own pace.
4. All the moves can easily be modified.
5. There's no choreography. It's straight-forward, challenging but easy- to-follow moves.
6. Variety—it's hard to get bored in this class! Different types of equipment are used: balls, Bosu's, steps, gliders, and more.
7. Built in rest periods.
8. East to check your progress from week-to-week.
9. Comprehensive—you get everything you need in one workout and it's highly effective in burning calories and fat. It incorporates strength training, cardio, speed, agility, power, flexibility, and more!
10. It doesn't require much coordination.
The following people may NOT be good candidates for this class:
1. People with hypostatic hypertension or veritigo.
2. People with serious orthopedic problems—knee or back issues.
3. Pregnant women.
Examples of Modifications:
1. Wall push-ups in place of regular pushups (or on the knees).
2. Wall squats in place of standard squats (lower down as far as you can).
3. Stepping up and down on the step in place of jumping.
4. Floor touches instead of Burpees (or extending one leg at a time).
Boot camp classes should be designed to accommodate and challenge all fitness levels. It's important to trust and enjoy your instructor. Shelly Thomas teaches Boot Camp every Saturday at 8:30 here at CFWLS. The members are thoroughly enjoying the class along with Shelly's fun personality and expertise. Come join the fun every Saturday. It will be the perfect start to you day!
Arlyne Spalla-Benson, LWMC, CPT
***Watch for word on our Self-Defense Boot Camp course coming up soon!  This will be a 4-week course taught by Shelly Ann Thomas – beginning March 16th!  Sign up in the Nutrition Store or call us at 757-873-1880.  Price for WLF & WMU Members is $20 – Non-Members are welcome too for just $40!***