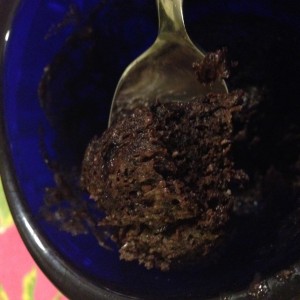 Very rich – grab 2 spoons and share the goodness!
Ingredients
2 Tbls almond meal
2 Tbls Splenda sugar substitute
1 Tbls unsweetened cocoa powder
1 Tbls coconut oil
3 Tbls half & half
1 tsp vanilla
1 whole egg
Directions
Melt coconut oil in mug.
Add remaining ingredients.
Stir well.
Microwave on high for 90 seconds.
Grab a spoon & enjoy!
Makes 1 serving (unless you're willing to share!)
Nutrition Facts:
Calories 390
Total Fat 33g
Total Carbohydrates 6g
Dietary Fiber 4g
Protein 15g
Print Recipe: Low Carb Chocolate Mug Cake