We're talking about sabotage behaviors. Often it's self-sabotage. We are our own worst enemy.  But sometimes it's others who are sabotaging us.  Eat to live, NOT live to eat. If it were only this easy! Often you "know" what to do, but doing the right thing can be difficult. Why is that? Often sabotage behavior can derail the best intentions.
Sabotage is "the act of hampering, deliberately subverting or hurting the efforts of another." Another definition is "the deliberate action to destroy property or equipment." What about the self-sabotaging behavior? Here are some things to think about. Are your goals realistic? If they become unrealistic, typically it becomes easy to sabotage yourself. You might be trying to do too much too soon. For example, if you overdo it with the exercising you could be so sore you can't move. Now you have to stop working out for several days. That "all or none" mentality does not work. The reality is, we all make mistakes. We need to be able to forgive ourselves as well. There's the "excuse for every occasion" type of thinking. For example, "I only have a birthday once a year." There's always going to be a birthday or festival or something. Relying solely on willpower is another example of self-sabotage. I assure you that doesn't work very well. Listening to how you feel will help you counteract this, as well as journaling. Thinking about it ahead of time will help you make better decisions. Another good way is writing it down. Journaling is one of the best ways to control what we do. It's a great way to keep track of what we eat and keep track of what we're doing. Writing your emotions down can be very helpful. You can ask yourself things like, "Am I truly hungry?" "Why is it I'm hungry?" "Am I angry?"
How do you combat this self-sabotage behavior?
Part of it is setting realistic goals. If the bar is set too  high there's no way we're going to get over it. It would be nice to lose 100 pounds. Is that realistic? Can you do it in a year? The goal is going to be different for every individual. Some of it is where we are trying to get in the long run. Secondly, throw away the excuses. Just decide what you're going to do and do it. Don't be in a hurry. You don't have to do it all at once. We all make mistakes. We all fall off the wagon. You need to forgive yourself. Be realistic. This didn't happen overnight.
Try not to overbuy. We talked recently about the "Costco effect" where we can get some great deals on everything in bulk. That's wonderful except whenever we buy things in bulk we tend to eat it quicker. This is true with everything.  When you have a lot of it, you tend to overuse it.  When we have only a little bit of something we tend to conserve it. This is true with food too. Overbuying tends to lead to overeating.
Pre-plan your day or week, including meals and activity. Review them frequently. Review at night to see what you could have done better that day. Wake up in the morning and figure out what your plan for the day is. Keep track of your steps daily.
Replace the negative thinking wit what you're doing right. We tend to beat ourselves up. Negative thinking is never helpful. Realize you made a mistake and do things differently. Most things in our life are recurring themes.
Finally, journaling is one of the most powerful tools there is. Writing things down helps you figure out what works well for you. Without writing it down you'll never really know where the problem areas are, especially the eating and activity aspect. We often have the concept of thinking we're doing everything just right. But if you actually right it down you can find areas of improvement. We can all improve. I can assure you of that.
Other people can sabotage your efforts. Some do it purposefully and others do it unconsciously. Unconscious saboteurs appear to be supportive and believe they are being helpful, but they actually knock you off track by acting out of habit. The conscious saboteurs are more obvious. They know you're trying to lose weight but they try to entice you. "Just one won't hurt." "This is the best cookie ever."  Some people ask you to do something else when they know it's your fitness time. "Let's stop by the bar and have a beverage and some food. " Other people just have a constant discussion about food. I could never understand why someone who's trying to lose weight would watch the Food channel. Turn it off. Why do you want to torture yourself?! You can be a foodie I guess, but it makes it really hard. When we talk about food, we get hungry.
How do you combat saboteurs?
Recruit people to help with weight loss. Communicate with friends and family assertively. Have responses ready. When someone encourages  you to eat some cake, just say, "No thank you."  You don't have to have a big explanation.  Place trigger foods out of sight. I'm not a big fan of saying you can never eat a particular food. The exception to that is for people who have trigger foods. If you're someone who can't eat just one potato chip and has to eat the whole bag, then you should avoid that trigger food. Stop being so polite.  "Ok I'll have a little of this…." "I'll skip my exercise because I know we haven't seen each other in a long time." Try to recruit your saboteur as a support person. If you can't recruit them, it's time to spend less time with them.
There are certain situations and events that are saboteurs. The big three are vacations, office life, and holidays. The reality is we're all going to be part of these things. You can't just ignore them. Everybody needs a vacation. You should have fun when you go on vacation. Incorporate activity into your vacation. Try some new foods. Search for new protein sources. Keep alcohol in check. There's a lot of calories alcohol and it turns to sugar very quickly. It also decreases inhibitions so you tend to eat more. Plan your splurges. For example, be careful during the day because you want to go to a certain restaurant at night. Enjoy the splurges and then get right back on track. Deprivation diets don't work very well.
Office life can be a saboteur. We obviously have to go to work. We have to socialize. You don't want to hide what you're doing. If you're losing weight, people are going to know what you're doing. If you talk about what you're doing then you can get support. Everyone is going to have an opinion so you want to be a little careful who you're sharing things with. Don't listen to everything they say. Take a walk during your break. Keep healthy snack available. Plan your eating times. There are also unplanned eating times. There should be periods of time when you're not eating.
During the holidays plan for events and don't go hungry. Have a plan to socialize away from the food. Take a look at the spread of food so you can "pick your poison." Keep it to a minimum. Watch the alcohol. It's a good time to schedule a personal trainer during the holidays. Have someone that is going to hold you accountable and to push you. Don't go it alone. Find a weight loss buddy. You can support each other.
Here are some tips for success.
Identify sabotaging behaviors you or others might have. It's very important to figure these things out. The situations are not going away. They are going to be there forever. Review the tools for combating saboteurs and risky situations. Separate yourself from risky situations as necessary. There are a couple of good resource both written by Judith Beck. She's a psychologist/behaviorist. The first is "The Diet Trap Solution" which is an older book. It's a really good book about how to change your behavior with eating. The other is "The Beck Diet Solution."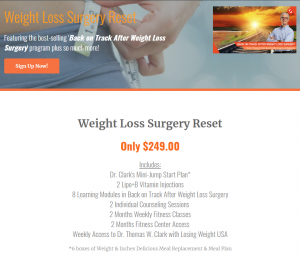 Right now we have 2 specials running to help you with your weight loss goals.  The first is our 28 Day Weight Loss Plan and the second is our Weight Loss Surgery Reset.  Check them out!