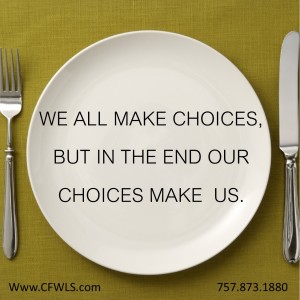 Why focus on what you shouldn't eat?  That's a very short list when you consider the abundance of foods that you can & should eat!
You want foods that are flavorful and fun to eat.  Vegetables & fruits are not only packed with flavor but have the fiber you need to keep your body happy.  The entire rainbow in the produce aisle is a natural source of energy and give you essential vitamins, minerals & phytonutrients to help protect you from chronic diseases. To get a healthy variety, think color.   Eating fruits and vegetables of different colors gives your body a wide range of valuable nutrients, like folate, potassium, and vitamins A and C. Consider picking up some green spinach, orange sweet peppers, black beans, yellow squash, purple eggplant, red watermelon, blueberries or white mushrooms the next time you're filling the frig.
Fresh fruits and veggies are perfect for busy lives, it's nutritious, yet easy to eat on-the-go! They are a natural source of energy and give the body many nutrients you need to keep going. Substituting fruits and vegetables for higher-calorie foods can be a great way to feel full and satisfy your cravings for something crunchy or sweet. Adding a second vegetable to your main meal can round out your plate and help you meet your daily needs.  The Centers for Disease Control and Prevention and the USDA both recommend at least 5 servings per day. (Serving sizes vary and you will want to know the carbohydrate counts, don't forget to record it in your journal).
Frozen options work well too and are nearly as healthy as the fresh varieties.  Pop them in a steamer bag and they take only a few minutes to put on the table.
With all of the Farmers Markets in our area, visit one this week and take a look at all there is to offer.  Bring a bag with you so that you can take some home! Make it a goal to try 4 new vegetables or fruits in the month of July – that is just 1 a week – you can do it!
Tomorrow is the start of another month and another opportunity for you to improve your health & fitness level!  Download the July Core Challenge and get fit!