Great on spaghetti squash or over steamed cauliflower! (This is also a great gluten free dish)
Ingredients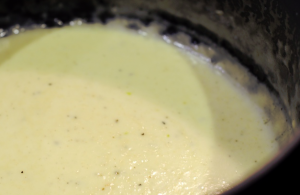 2 Tbls butter
4 oz light cream cheese
2 cups 2% milk
1/3 cup parmesan cheese
1/8 tsp ground nutmeg
½ tsp salt
¼ tsp pepper
Directions
1. Heat butter in saucepan and add cream cheese. Stir over low heat until melted.
2. Add milk and bring to boil, continue to stir until mixture thickens slightly.
3. Reduce heat and stir in Parmesan cheese and seasonings. Cook an additional 1-2 minutes while stirring.
Makes 4 servings
Nutrition Facts:
Calories 203
Total Fat 13g
Total Carbohydrates 8.3g
Dietary Fiber 0g
Protein 9.3g
Print Recipe Low Carb Alfredo Sauce
Note: Add mushrooms or other vegetable to add variety!