Looking for a side dish with a little extra zip?  Add chicken or shrimp for a one-dish meal!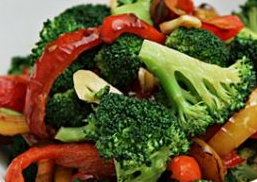 Ingredients
3 tbsp soy sauce
1 tbsp fresh lemon juice
1 tsp toasted sesame oil
8 cup broccoli, florets, baby, frozen
2 medium red &/or yellow bell peppers
Directions
To prepare sauce, combine in a small bowl soy sauce, lemon juice, and sesame oil. Set aside.
Place a steamer basket in a 12-inch skillet. Add enough water to come just below bottom of basket. Bring to boil, place broccoli in steamer basket, reduce heat to medium low. Cover and steam for 4 minutes. Add sweet peppers. Cover and steam for an additional 3 to 4 minutes or until vegetables are crisp-tender.
Makes 12 servings.
Nutrition Facts:
Calories 32
Total Fat .5g
Total Carbohydrates 4.4g
Dietary Fiber 1.7g
Protein 1.2g
Print Recipe  Asian Style Broccoli
From dLife.com