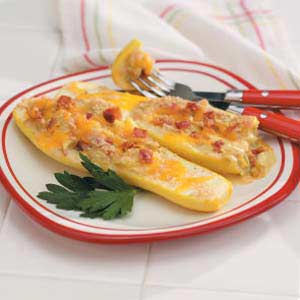 Who doesn't love bacon???
Ingredients
6 small to medium yellow squash
Salt & pepper
Onion powder
¾ cup shredded Cheddar cheese
4 strips bacon, cooked and crumbled
1/3 cup light sour cream
1 green onion, thinly sliced
Directions
Preheat oven to 350 degrees and spray baking sheet with cooking spray.
Cut ends off yellow squash, then cut each in half lengthwise. Place halves cut side up on baking sheet.
Sprinkle squash with salt, pepper and onion powder. Top each with an even amount of cheese and crumbled bacon.
Bake for 12-14 minutes or until cheese is bubbly and squash has a little bit of give to the touch. Serve with a dollop of sour cream and a sprinkle of green onion.
Note: You may want to scoop a small trough in the squash to create more of a boat.
Makes 6 servings
Nutrition Facts:
Calories 130
Total Fat 9g
Effective Carbohydrates 3.5g
Dietary Fiber 1.5g
Protein 8g
From The Good Carb Chef