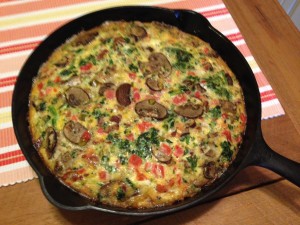 Switch up the cheeses for a totally different flavor!
Ingredients
2 Tbls olive oil
1 cup baby bella mushrooms, sliced
1 clove garlic, minced
1 pkg fresh baby spinach
4 slices bacon, cooked and chopped
1 10 oz can Rotel tomatoes
1 4 oz can green chilies
¼ tsp sea salt
¼ tsp fresh ground pepper
12 large eggs, beaten
½ cup crumbled garlic and herb feta cheese
Directions
1.      Preheat the oven to 350 degrees.
2.      Heat oil in 10 inch cast iron skillet over medium heat. Saute mushrooms 2-3 minutes or until browned.
3.      Add garlic and saute 1 minute. Stir in spinach, cook stirring constantly until spinach begins to wilt.
4.      Add bacon, tomatoes and green chilies, salt & pepper, and cook. Stir often, 2-3 minutes. Add eggs and sprinkle with cheese.
5.      Cook 3-5 minutes, gently lifting edges of frittata with a spatula and tilting pan so uncooked portions slip underneath.
6.      Bake at 350 degrees for 12-15 minutes or until set and lightly browned. Remove from oven and let stand 5 minutes. Slice into 6 wedges and serve immediately.
Makes 6 servings
Nutrition Facts:
Calories 275
Total Fat 19.5g
Total Carbohydrates 5.8g
Dietary Fiber 1.5g
Protein 19g
Print recipe:Bacon Mushroom Frittata
Adapted from SouthernLiving.com