Perfect for serving with soups or salads.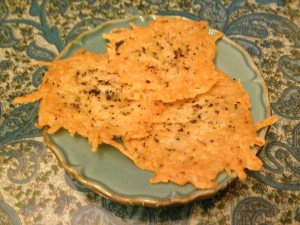 Ingredients:
1 cup shredded hard cheese (Parmesan, Asiago, Romano, etc.)
Herbs or seasoning – optional
Directions:
Preheat oven to 425 F.
Toss cheese with 1 tsp any seasoning or herbs  (garlic powder, pepper, powder, parsley, etc.)
Pile 1 Tablespoon of cheese on a baking sheet covered with a silicone mat or parchment paper.
Spread the cheese out a bit into even piles the desired size of the crisps. Allow space between piles as they spread a bit.
Bake 5 to 6 minutes until they are a light golden brown (they will be a little darker at the edges). Watch carefully.
Nutritional Info: (makes 12)
Calories        21
Protein          2
Fat                1
Carbs            0