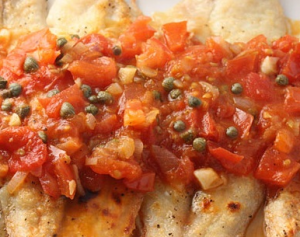 Dinner in less than 30 minutes!
Ingredients
16 oz frozen tilapia fillets, thawed and patted dry
2 teaspoons ground cumin
1 teaspoon ground black pepper
1/2 can Ro-Tel tomatoes, drained
1 Tbls capers
Directions
Preheat oven to 400 degrees. Lay tilapia fillets in 9 x 9-inch baking dish. Sprinkle cumin and black pepper over fish. Add tomatoes; sprinkle lightly with parmesan cheese. Bake 20 minutes or until fish flakes easily with fork.
Add a green salad and you're set!
Makes 2 servings
Nutrition Facts:
Calories 220
Total Fat 1g
Effective Carbohydrates 3.5g
Protein 30g