Rich tasting cheesecake with fresh berries, orange peel, and gingersnap cookie pieces.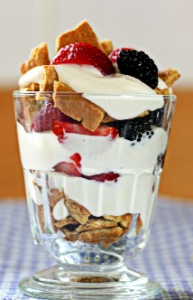 Ingredients
2 oz fat free cream cheese
1/4 cup Cheese, ricotta, lite
4 1/2 tsp sugar
1/4 tsp grated orange peel
2 tsp orange juice
1 1/2 cup fresh strawberries
2 each gingersnap cookies
Directions
Combine cream cheese, ricotta cheese, sugar, orange peel, and orange juice in a blender. Blend until smooth. Put mixture into a smaller bowl. Cover and chill for 4 hours but no more than 24 hours.
To serve, put cookie crumbs in dishes. Top with strawberries and the cream cheese mixture and sprinkle with cinnamon if desired.
Makes 2 servings
Nutrition Facts:
Calories 131.6
Total Fat 2.6g
Total Carbohydrates 23g
Dietary Fiber 2.4g
Protein 6.4g
Print Recipe: Berry Cheesecake Parfait
From dlife.com