Crunchy & nutty!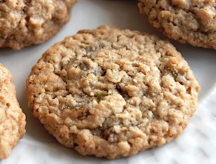 Ingredients
2 cup Flour, all purpose, white, bleached, enriched baked value sifted
1 tsp baking soda
1 tsp salt
1/2 cup margarine
2 1/2 cup packed brown sugar
2 each eggs
1 tsp vanilla extract
2 cup quick cooking rolled oats
2 cup Cereal, rice, puffed
1/2 cup chopped walnuts
Directions
Preheat the oven to 350 degrees F.
Sift flour, baking soda, and salt onto a sheet of waxed paper.
In a large bowl combine cream margarine and brown sugar until fluffy, with an electric mixer at medium speed .
Beat eggs into mixture 1 at a time until mixture is again fluffy.
Stir in vanilla.
Add dry ingredients 1/3 of it at a time into brown sugar mixture until well blended.
Stir in rolled oats, rice cereal, and walnuts.
Spray large cookie sheets with nonstick cooking spray. Drop dough by rounded teaspoonfuls about 1 inch apart.
Bake cookies for 10 minutes or until firm and lightly golden.
Remove cookies from oven and place on wire racks to cool.
Makes 102 cookies
Nutrition Facts: (per cookie)
Calories 49
Total Fat 1.5g
Total Carbohydrates 8.4g
Dietary Fiber .3g
Protein .7g
Print Recipe Butterscotch Crispies

From dLife.com