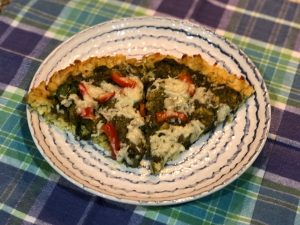 Wow! The protein is in the crust so dress it any way you like it 😊
Ingredients
Crust:
8 ounces chicken breast, cooked and shredded fine
1 egg
1 clove garlic, minced
½ cup shredded Parmesan
Topping: (nutritional info for toppings used here)
2 Tablespoons pesto sauce
¼ cup sliced red pepper
½ cup packed baby spinach
¼ cup shredded Parmesan
Directions
Preheat oven to 400 degrees. Place baking stone on center rack.
Cook chicken and shred or finely chop. You could use canned chicken breast as well.
Mix chicken with egg, garlic and ½ cup parmesan cheese.
Press chicken mixture onto parchment paper (on baking sheet or pizza peal), making it about 1/4 inch thick. Slide paper into oven and directly onto hot baking stone. Bake for 18-20 minutes or until crust starts to brown.
Remove from oven and add toppings. Return and bake until hot and cheese is melted.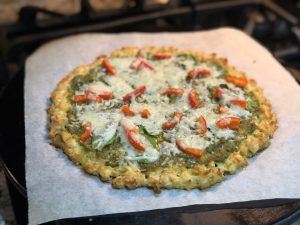 Makes 3 servings
Nutrition Facts:
Calories                                 253
Total Fat                                14g
Total Carbohydrates              4.5g
Dietary Fiber                            1g
Protein                                   28g
Print Recipe: Chicken Crust Pizza
Note: This recipe is easily doubled. You can add whatever toppings you like and substitute mozzarella cheese for the Parmesan as a topping. Nutrition values will vary with toppings.