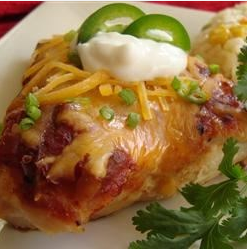 Quick & easy Mexican chicken dish – serve with a side of black beans!
Ingredients
4 chicken breast halves
1 clove garlic, minced
Pinch of salt
Pinch of fresh ground pepper
Pinch of cumin
1 cup salsa
1 cup shredded Cheddar cheese
Directions
1. Preheat the oven to 350 degrees.
2. Heat skillet to medium heat. Rub chicken breasts with seasoning mixture and place in hot skillet. Cook until browned on both sides and no longer pink, 10-15 minutes.
3. Transfer chicken to a baking dish coated with cooking spray. Top with salsa and shredded cheese. Bake until cheese is bubbly and starting to brown.
Makes 4 servings
Nutrition Facts:
Calories 264
Total Fat 11g
Total Carbohydrates 4.9g
Dietary Fiber 1.1g
Protein 35.4g
Print recipe Chicken Ole
Adapted from allrecipes.com