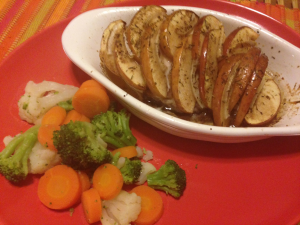 Ingredients
4 each boneless skinless chicken breasts
1 each Cooking Spray, canola, with butter flavor, 1/3 sec spray
1 pinch salt and pepper
1 cup Apples, fresh, sliced
1 each medium shallots
1 tbsp fresh thyme
1/4 cup balsamic vinegar
1 pinch fresh thyme
Directions
Preheat oven to 375°F (190° C).
Rinse chicken breasts and pat dry with paper towels.
Spray a baking dish lightly with cooking spray.
Sprinkle chicken breasts with salt (if using) and pepper. Place in a single layer in the prepared baking dish.
Arrange thin apple slices over and around chicken breasts.
Sprinkle with shallot and thyme leaves; pour on the balsamic vinegar.
Bake for 15 to 20 minutes, until chicken is dense throughout (cut to test).
Arrange cooked breasts on a platter with spoon apples and cooking juices on top. If desired, garnish with thyme sprigs. Serve at once.
Makes 4 servings.
Nutrition Facts:
Calories 153
Total Fat 1.5g
Total Carbohydrates 7g
Dietary Fiber .8g
Protein 26.5g
Print recipe  Apple and Thyme Chicken
From dLife.com