Don't be shy – you're going to love it!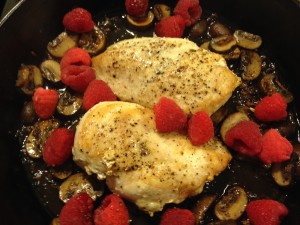 Ingredients
4 boneless, skinless chicken breasts
Salt & pepper
1 Tbls olive oil
4 cloves garlic, crushed
1 large shallot, chopped
1 c chicken broth
½ cup dry red wine
8 oz baby bella mushrooms
1 cup fresh raspberries
1 Tbls butter
1 Tbls balsamic vinegar
1 tsp grated lemon zest
Directions
Season chicken with salt & pepper.
Heat skillet over medium heat and add olive oil.
Sear chicken on each side for about 3 minutes. Remove chicken from pan and set aside.
Add garlic and shallot to skillet and cook over medium heat for 1 minute.
Add chicken broth and wine, cook until slightly reduced or about 10 minutes.
Add sliced mushrooms and lower heat to a simmer.
Return chicken to skillet, cover and simmer until chicken is cooked through or about 10 minutes.
Add butter, balsamic vinegar and lemon zest. Stir to blend.
Toss raspberries into and allow to warm about 1 minute.
Makes 4 servings
Nutrition Facts:
Calories 258
Total Fat 11.5g
Total Carbohydrates 6g
Dietary Fiber 2g
Protein 38g
Print Recipe: Raspberry Mushroom Chicken
Adapted from Trisha Yearwood recipe on Food Network