Great on the grill or baked!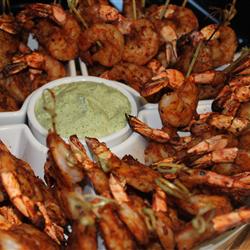 Ingredients
3 cloves garlic, minced
2 chipotle peppers in adobo sauce, chopped
1 lemon, juiced
1 tablespoon olive oil
1 tablespoon paprika
1 teaspoon chopped fresh cilantro (optional)
1 teaspoon kosher salt
1/2 teaspoon cracked black pepper
1/2 teaspoon crushed red pepper flakes
1/4 teaspoon cayenne pepper
2 pounds uncooked medium shrimp, peeled and deveined
wooden or metal skewers
Directions
1.      Mix together the garlic, chipotle peppers, lemon juice, olive oil, paprika, cilantro, kosher salt, black pepper, red pepper flakes, and cayenne pepper in a bowl. Stir in the shrimp, and mix well to thoroughly coat. Marinate for 30 minutes in refrigerator.
2.      Preheat an outdoor grill for medium-high heat, and lightly oil the grate.
3.      Remove the shrimp from the marinade, and discard excess marinade. Thread about 5 shrimp per skewer, and grill on the preheated grill until the shrimp turn pink and opaque in the center, about 2 minutes per side.
Makes 6 servings
Nutrition Facts:
Calories 149
Total Fat 3.9g
Total Carbohydrates 3.6g
Dietary Fiber 1.6g
Protein 25.2g
Print recipe Chipotle Shrimp

From allrecipes.com