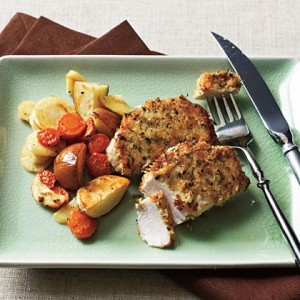 With a crispy exterior and a moist interior, these pork medallions are an easy entrée for any season.
Ingredients
2 tablespoons Dijon mustard
1 (1-pound) pork tenderloin, trimmed and cut into 8 medallions
1/2 cup panko (Japanese breadcrumbs)
1 tablespoon chopped fresh thyme
1 tablespoon minced fresh parsley
1/8 teaspoon salt
1/8 teaspoon freshly ground black pepper
2 tablespoons extra-virgin olive oil
Directions
1. Preheat oven to 450°.
2. Rub mustard evenly over pork medallions. Combine panko, thyme, parsley, salt, and pepper in a large bowl. Dredge pork in panko mixture. Heat a large ovenproof skillet over medium-high heat. Add oil to pan; swirl to coat. Add pork; sauté 2 minutes or until golden brown. Turn pork. Place skillet in oven; bake at 450° for 8 minutes or until pork reaches 145°. Let stand 3 minutes.
Serves 8
Nutritional Information:
Calories: 210, Total Effective Carbs 4.8g, Fat 9.4g, Protein 24.5g