Simply delicious! Experiment with additional ingredients like mushrooms & peppers or substitute a different kind of cheese.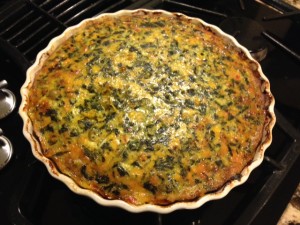 Ingredients
10 oz Broccoli, chopped, plain, frozen
1 each cooking spray
1 cup liquid egg substitute
1/3 cup white all purpose flour
1/4 tsp black pepper
1 1/2 cup low fat cottage cheese
1 cup low fat cheddar cheese, shredded
2 oz Cheese, feta, crumbled
Directions
Preheat the oven to 350 degrees F. Cook broccoli in boiling water for 3 minutes in a large saucepan. Drain well and set aside.
Lightly coat a 9-inch pie plate with cooking spray and set aside.
Combine the egg product, flour, and pepper in a large bowl, then stir in the cottage cheese, broccoli, 3/4 cup of the cheddar cheese, and the feta cheese. Spoon the mixture into the prepared pie plate.
Bake, uncovered, for 40 to 50 minutes or until a knife inserted near the center comes out clean.
Remove to a wire rack, and sprinkle with the remaining cheddar cheese. Cool 5 to 10 minutes before serving.
Makes 8 servings
Nutrition Facts:
Calories 118.2
Total Fat 3.2g
Total Carbohydrates 8.6g
Dietary Fiber 1.1g
Protein 13.5g
Print Recipe Crustless Broccoli Cheese Quiche
From dLife.com