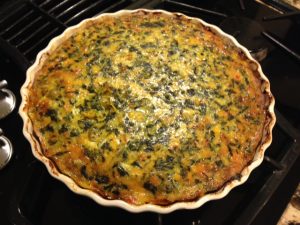 A brunch favorite filled with flavor! 
Ingredients
6 eggs
10 oz pkg frozen spinach, thawed & drained
1 medium onion, diced
2 cloves garlic, minced
1 Tbls butter
½ green olives, sliced
1 tsp red pepper flakes
2 cups shredded cheddar (I use the Mexican blend)
Salt & Pepper to taste
Directions
Preheat oven to 350 degrees. Spray large (9") quiche dish with cooking spray.
Saute onions & garlic in butter until softened. Stir in spinach and cook until heated through. Remove from heat.
Add olives and pepper flakes.
Whisk eggs and stir into spinach mixture.
Stir in cheese and pour into baking dish. Sprinkle a little more cheese on top if desired.
Bake for 35-40 minutes or until eggs are set and edges turn slightly brown.
Remove and allow to cool before serving.
Makes 6 servings
Nutrition Facts:
Calories                       171
Total Fat                      10g
Total Carbohydrates      5g
Dietary Fiber               1.5g
Protein                         17g
Print Recipe: Spinach Crustless Quiche