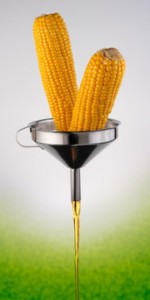 This week's Webinar (Tuesday, August 6th from 6pm-6:30pm) is called "High Fructose Corn Syrup – Sweetener or Fruit of the Devil?"  If you are trying to lose weight, this webinar is a must!  Find out what's best for that "sweet tooth" desire.  Enjoy this week's tip sheet as Dr. Clark share some of his top dieting myths.  And enjoy our recipe this week too – Breadless Pudding.
Dieting Myth #1
"Abdominal crunches will give you a flat stomach"
If you belong to a gym, chances are that at some point you have seen someone who is overweight performing an endless amount of crunches in the hope of achieving a flat stomach.  It's not going to happen!  There is no such thing as spot reduction.  Fat comes off all over and not in one specific area.  You can also spend time tightening up your abdominal muscles but if you have fat lying on top – you will never see them.
Dieting Myth #2
"Grapefruit, Cabbage Soup, and Acai Berry are magic foods for shedding pounds"
Fad diets usually promise fast weight loss and often cut certain foods or food groups out of your diet.  You may lose weight at first but strictly limiting calories or eliminating certain foods is difficult to follow for any length of time.  As a result, any weight lost is quickly gained back.  There is no quick fix for a lifestyle change as habits are not changed overnight.
Dieting Myth #3
"Lifting weights will bulk me up and add weight"
Only intense strength training combined with certain genetics can build very large muscles.  Resistance training is a dieter's best friend because as you build muscle you improve your ability to burn calories. Muscle burns more calories than body fat even while you are sitting doing nothing!
Dieting Myth #4
"Red meat is bad for my health and my waistline"
Eating lean meats can be part of a health weight loss plan.  Red meat, pork, chicken or fish may contain some cholesterol and saturated fat but they also contain healthy nutrients like protein, iron, and zinc.  Protein is essential for keeping lean body mass as you are losing weight and also helps to keep you full as it breaks down more slowly than many carbohydrate foods.
Just be aware of portion sizes as one serving of cooked meat is typically around 3 ounces and that is only the size of a deck of cards.
Breadless Pudding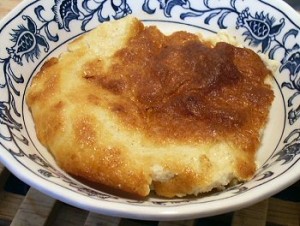 Ingredients:
3 eggs
3/4 cup heavy cream
3/4 cup water
1 cup cottage cheese, full fat small curd
1/2 cup granulated Splenda or equivalent liquid Splenda
1 teaspoon vanilla
1/4 teaspoon cinnamon
Instructions:
Beat all of the ingredients with a mixer until as smooth as possible. There will still be some lumps of cottage cheese. Pour into a buttered 8×8″ baking dish. If desired, sprinkle some additional cinnamon on top. Bake at 350º for about 1 hour or until the top is nicely browned.
Makes 6-8 servings – Do not freeze
Nutritional Information:
With granular Splenda:
Per 1/6 Recipe: 186 Calories; 15g Fat; 8g Protein; 4g Carbohydrate; trace Dietary Fiber; 4g Net Carbs
Per 1/8 Recipe: 140 Calories; 11g Fat; 6g Protein; 3g Carbohydrate; trace Dietary Fiber; 3g Net Carbs
With liquid Splenda:
Per 1/6 Recipe: 178 Calories; 15g Fat; 8g Protein; 2g Carbohydrate; trace Dietary Fiber; 2g Net Carbs
Per 1/8 Recipe: 134 Calories; 11g Fat; 6g Protein; 2g Carbohydrate; trace Dietary Fiber; 2g Net Carbs