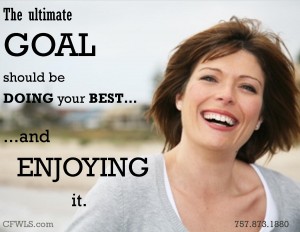 Weight-loss goals can mean the difference between success and failure.  Well-planned weight loss goals provide a plan that keeps you focused and motivated.  Poorly planned goals, on the other hand, are unrealistic and almost impossible to achieve.  If you set unrealistic goals, you will probably end up frustrated and discouraged and decide to quit all your efforts to lose weight.  These tips will help you create well-planned weight loss goals that will have you on the path to weight loss success:
Begin by breaking down one big goal into a series of smaller ones. Having one big goal can be overwhelming, especially if you have a lot of weight to lose.  Take small steps to meet your main goal and you will be more likely to succeed because small goals are more manageable.  Consider short-term goals as stepping stones to reaching long-term goals.
 Be willing to change your goals as you progress. You may find that your smaller goals are not challenging enough and you may need to adjust them as you adapt to your new lifestyle.  Review your goals each week, think about what worked and what didn't and make new goals accordingly.
 Set goals that take your personal capabilities into consideration. Take your schedule, fitness level and health into consideration, and your goals will be more achievable.
  Make sure that your weight loss goals are realistic. Don't expect rapid weight loss. Safe weight loss is usually around 2 pounds each week. This means that you will need to burn about an extra 1,000 calories each day.  You can do this by cutting back the calories and adding extra activity into your life every day.
 Focus on changing your habits. Changing your habits and making a lifestyle change is the key to successful weight loss.  Focus on the process of change and not on the outcome.
 Identify potential setbacks. By recognizing potential setbacks beforehand, you can brainstorm strategies that will help you to overcome them and keep you on track.  Setbacks are normal and most of us have experienced them.
 Write down your goals. You will be more successful if you write down all the details of your goals.  It will help to make you more aware of your expectations, give you more accountability and serve as a great reference tool as to what works and what doesn't.
 Timing can make the difference between success and failure. Timing is crucial.  You may need to look at your life and resolve some issues first. Make sure that other stressors such as work and personal life are as calm as you can make them.  Don't start a weight loss plan and a new job at the same time. Once you have chosen a starting date to lose weight – don't put it off!
At Dr. Clark's Center for Weight Loss Success you will learn that goals need to be SMART – meaning that they need to be Specific, Measurable, Attainable, Realistic and Time-bound.  Set your personal goals and get started!  You'll find that realistic and well-planned goals will help you have a more successful weight loss program.