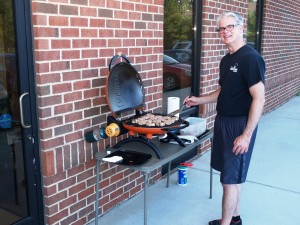 Fire up the grill – these are fantastic!
Ingredients:
1 lb. ground turkey,
1/2 cup crumbled feta cheese,
1/4 cup sun-dried tomatoes
Chopped onion—to taste
Salt & Pepper
Fresh basil
Romaine lettuce leaves
Directions:
Mix together turkey, feta, sun-dried tomatoes, onion, basil & seasonings into a large bowl.
Form 1/4 cup little patties for grilling.
Grill until golden brown and cooked through.
Serve in lettuce leaf.
Makes 12 servings
Nutrition Facts:
Calories 183
Total Carbohydrates 2g
Protein 19g
From our annual July cookout