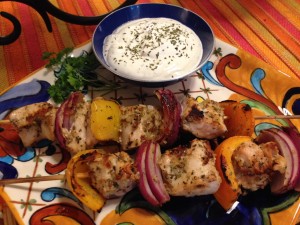 Ingredients
4 boneless, skinless chicken breasts
2 sweet peppers
1 large onion
½ cup lime juice
½ teaspoon garlic powder
1 tablespoon cumin
1 tablespoon dried cilantro
½ teaspoon red pepper flakes
1 teaspoon onion powder
1 teaspoon salt
1 teaspoon pepper
Bamboo or metal skewers
Creamy cilantro sauce:
1 cup light sour cream
3 tablespoons cilantro, minced
1 teaspoon lime zest
2 teaspoons lime juice
Directions
1. Cut chicken into 1" pieces.
2. Cut peppers and onion into 1" chunks.
3. In a large re-sealable bag, combine seasonings and lime juice. Add chicken breasts, onion and peppers and allow to marinate in refrigerator for at least an hour.
4. Thread chicken, peppers, and onion onto skewers.
3. Place each skewer onto grill. Allow each to sear and flip to other side. Brush each skewer with any remaining marinade.
4. Grill over high heat for 5 minutes, flip, and let cook for an additional 3 minutes or until done.
5. In a bowl, combine all creamy cilantro sauce ingredients. Stir well to combine.
6. Top with the creamy cilantro sauce, cilantro, and a squeeze of lime juice.
Makes 4 servings
Nutrition Facts:
Calories 250
Total Fat 6g
Total Carbohydrates 13g
Dietary Fiber 3g
Protein 39g
Print Recipe Chicken Fajita Kabobs with Creamy Lime-Cilantro Sauce