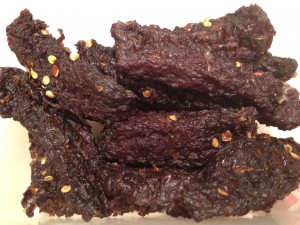 Ingredients
4 pounds London Broil or Beef Sirloin Tip
2/3 cup Worcestershire sauce
2/3 cup soy sauce
1 Tbls. salt
1 tsp. black pepper
1 tsp. garlic powder
1 tsp. onion powder
1 Tbls. Liquid Smoke (optional)
2-3 tsp. Tabasco sauce (optional)
1-2 tsp. crushed red pepper (optional)
Directions
Place meat in freezer for a little while. Cut partially frozen meat into thin slices. (Your local meat department may slice this for you – it's always good to ask).
Pound slices slightly with the tenderizer edge of a meat mallet to break fibers. Set aside.
Mix remaining ingredients together in gallon size re-sealable bag or glass baking dish. Add meat and allow marinade to thoroughly saturate the slices. Allow to marinate overnight.
Drain meat from marinade and allow to dry on paper towels. Place cooling racks on baking sheets and lay the strips of meat over the racks. (This allows for faster drying time).
Set over to 300 degrees and place racks inside. Allow to sit at 300 for 15 minutes.
Lower oven temperature to lowest setting (150-180 degrees) and leave door open a crack to allow moisture to escape. The smaller pieces will be ready in 2 ½ hours but thicker pieces may take 4-5 hours. Check every hour.
Cool completely before sealing in airtight container.
Makes 24 servings
Nutritional Information:
Calories:       160
Effective Carbs    1g
Fat             4g
Protein         28g
Print Recipe Fantastic Jerky
Note: The last three ingredients are a matter of personal taste. If you like things hot or extra hot, adjust accordingly.  Enjoy!