It's no secret that eggs pack a great little protein punch and are extremely versatile in your diet. They average about 70-80 calories and contain 6-7 grams of protein. They are rich in choline, which helps promote normal cell activity and aids in the transportation of vitamins and minerals through your system. Eggs contain all 9 of the amino acids that are essential to your diet. What don't they do?  They don't add to your carb count!
This time of year, you'll see eggs everywhere – have you colored a batch yet?  (You don't need a child's help but it could make it more fun). Pick up a dozen – or two – and make your own this weekend!  We made a batch last weekend with this no-mess trick that's great for little fingers.
You'll need a bag of rice and some basic liquid food coloring along with a number of small plastic containers with tight-fitting lids.  I picked up the rice & containers at the local dollar store.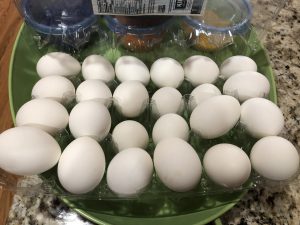 Start with this great tip on cooking the perfect hard-boiled eggs.  Allow them to cool and dry completely.
Put about 3/4 – 1 cup of rice to each container and add 8-10 drops of coloring to each cup.
Shake the container to distribute the coloring to the rice.  Open the container and add a hard boiled egg, reseal and hand to a small child to shake!
Remove the colored eggs from the cups and lay on a paper towel to dry completely. You can make them multi-colored by tossing them into a second color.  If the rice seems to be drying out, add a few more drops of coloring and shake before adding a new egg.
Enjoy these colorful treats & Happy Easter everyone!