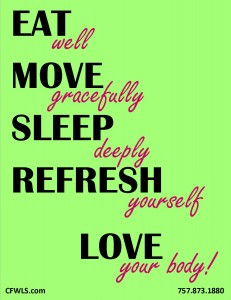 Life can be so hard!  As a physician and surgeon, I like to "fix" things.  I like to make it all better.  I want to take away the stress of illness, financial difficulties, unkind words or actions, anger and disappointment from this world.  The truth is that I can't do that…at least not all by myself.  What I can do is help YOU take care of YOU.  If you do this, you will be better able to make a positive difference in your life and the lives of others.
It all starts with loving yourself!  It starts with taking care of yourself…committing to YOU.  If you do, you will find yourself in a happier place and you will also find that when doors close, windows are opening.  Your entire outlook on life is improved and you build the confidence to move forward…blossom into the person you are meant to be (or an enhanced version of the wonderful person you already are).
When I turned 49, I made a renewed commitment to myself.  I committed to live the healthiest life possible – for me, for my family and for you.  What?  You may think "he doesn't even know me".  However, the truth of the matter is that if I am going to help others live their healthiest life then I need to do that as well.  I follow our weight loss plan, I exercise 5-6 days a week, I set goals and determine the best plan for accomplishing them.  I don't use a set-back as an excuse to throw in the towel.  Instead, I use them as a learning experience…another opportunity to improve.  I am not saying I am anywhere near perfect when it comes to all of these things (nor will I ever be) but I am committed to being my best and helping others become their best.  I haven't looked back!
It starts with YOU and how you feel about yourself.  Be kind to you and your body.  Take care of your mind and your body.  Obesity brings disease.  Reversing this path with weight loss is the best preventative medicine I know (and the best medicine for reversing some illnesses as well).   Others can be hard enough on you.  I give you permission (doctor's orders) to give yourself a break.  Start loving yourself and commit to making YOU your best in 2015!  We are here to help every step of the way.