Something sweet without the guilt!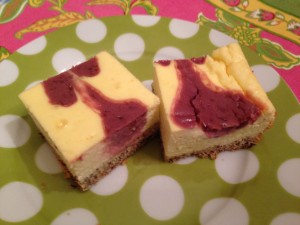 Ingredients
Crust:
2 large eggs, beaten
1 cup almond flour
1/3 cup bulk sugar substitute
1 tsp baking powder
Filling:
16 oz cream cheese, softened
½ cup bulk sugar substitute
1 Tbls vanilla extract
3 large eggs
Directions
Preheat oven to 350 degrees and spray 8×8 baking dish with cooking spray.
Combine all crust ingredients in large bowl. Pour into baking dish and spread evenly. Bake for 15 minutes or until lightly browned. Let cool for 5 minutes.
Beat first 3 filling ingredients until combined. Add eggs and continue mixing on medium until mixed and smooth. Remove 3 Tlbs of filling into small bowl.
Add jam to small bowl of filling and mix well. Set aside. (I added a drop of coloring)
Pour filling over crust. Spoon small dollops of berry filling onto the top of cheesecake mixture. Run a knife through the dots to create a swirl or heart.
Pour filling over crust and bake for 30 minutes or until center is set.
Cool for 30 minutes and then refrigerate for 2 hours before cutting into 2" low carb cheesecake squares.
Nutrition Facts: Makes 16 servings
Calories 140
Total Fat 6g
Effective Carbohydrates .7g
Protein 4g
Print Recipe  Cheesecake Bars