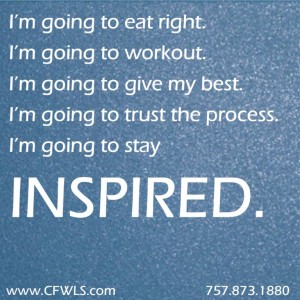 Setting a new goal is always exciting at the beginning of a weight loss or fitness program. But that isn't the end of it. How often do you pull them out and to review your progress?
Don't wait until you've achieved your target weight or personal best. Anytime you feel like you have hit a plateau or have reached a mini-goal, take a few minutes to review your latest set of goals and ask yourself a few questions.
S – Were your goals specific enough? Did you include exactly what you hoped to achieve? Did you name anyone or anything that was important to helping you succeed in this challenge? Are there any skills, knowledge or resources that you need to obtain in this process?
M – Did you list your unit of measurement? In order to see how far you have come, a standard unit (pounds, minutes, pace, days, etc.) is vital to measure progress. This is where mini-goals fit nicely – find yourself a halfway point or several places to reassess.
A – Were your goals truly reasonable? You may have been a bit too optimistic when jotting down those first set of numbers. If your goals are not realistic or achievable, you will likely lose faith in yourself and stop trying completely.
R – Did you spell out the benefits in reaching your goal? Making those benefits personal (or relevant) is a great motivator.
T – Was the date you put in place tied to an event or a page on the calendar? We often find tying goals to an event in life are abandoned once the event is over. Worse yet, if the event is cancelled, the goal seems to get cancelled too! Setting a time limit to reach your target adds a little push to help keep you motivated. Find a date on the calendar (yes, it can be close to an event) and set a time limit for yourself. You may even achieve your goal before the date so have  another challenge ready to go!