Serve with Spring Veggies for a seasonal flair!
Ingredients                                                                                                                              
1 ½ lb chicken breasts,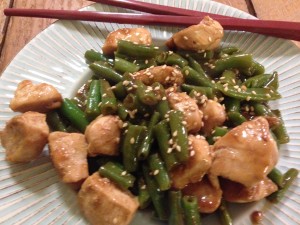 cut into 1" cubes
Sea salt, to taste
½ cup chicken broth
2 Tbls soy sauce
2 tsp cornstarch
2 Tbls water
1 Tbls olive oil
3 cups asparagus or string beans, cut into 1" pieces
6 cloves garlic, minced
1 tsp fresh ginger
3 Tbls lemon juice
Fresh ground pepper, to taste
Directions
Lightly season chicken with salt. Combine chicken, broth and soy sauce. In a second bowl, combine the cornstarch and water and mix well.
Heat large non-stick wok to medium-high heat and add 1 tsp oil. Add vegetable and cook until tender crisp, about 3-4 minutes. Add garlic and ginger and cook until golden, about 1 minute.  Remove from pan and set aside.
Increase heat to high and add 1 tsp oil and chicken.  Cook until browned and cooked through, about 4 minutes on each side. Remove from pan and set aside.
Add the soy sauce mixture, bring to a boil and cook about 1-2 minutes. Add lemon juice and cornstarch mixture and stir well.  Bring to a simmer and add chicken and vegetables.  Stir to mix well and allow to thicken slightly.
Remove from heat and serve.
Nutrition Facts: Makes 4 servings
Calories 268
Total Fat 7g
Effective Carbohydrates 7g
Protein 41g
Print Recipe  Lemon Chicken Stir Fry