Keep it light, keep it simple…fresh flavors shine through!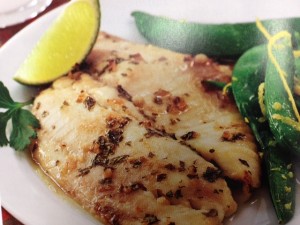 Ingredients
1 ½ pounds tilapia fillets
Juice of one large lime
1 Tablespoon honey
1 Tablespoon fresh chopped cilantro
1 teaspoon minced garlic
¼ teaspoon salt
Directions
Preheat the oven to 375 degrees.
Spray baking sheet pan with non-stick spray.
Place tilapia on greased pan.
Mix remaining ingredients in small bowl. Drizzle evenly over tilapia.
Bake for 15 minutes or until fish begins to turn light brown and flakes easily with a fork.  Serve basted with juices and garnish with fresh lime and cilantro.
Makes 4 servings
Nutrition Facts:
Calories 160
Total Fat 1.5g
Total Carbohydrates 5g
Dietary Fiber 0g
Protein 32g
Print Recipe  Lime and Honey Tilapia
Adapted from the Good Carb Chef