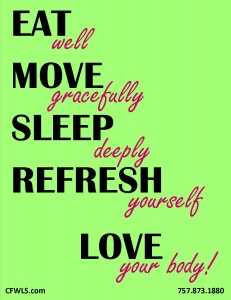 If you are like most of us, you probably spend a fair amount of time on your hair and/or makeup and maybe even more time staring into your closet for something to wear.  But none of that really matters if you don't love your body.
Think inside out!  You are more than your outer shell.  Every cell that you can't see is counted upon to carry out whatever task you need every single day.  These cells need water, good    nutrition & exercise.  Learn to love your body and watch it respond!
Love your heart – that's where it all begins.  The muscles of your heart keep you alive and you want them to be strong.  Regular cardio exercise not only supplies oxygen to the red blood cells, it keeps the heart & lungs in shape! We encourage at least 30 minutes of aerobic exercise daily.  This can be something as easy as walking or a more challenging workout like kickboxing.  You may have a wide range of activities that you enjoy so think of exercise as a way to increase the fun in your life.
Those legs do more than just look good in a skirt or shorts!  They are your transportation and you have no time for a breakdown.  Your legs have the largest and most powerful muscles in your body and deserve a little attention—squats, lunges and leg presses are only the beginning of things they can do.  Strength training is a must to keep your lean body mass intact and    performing its best.
Are you sitting down?  The muscles that allow you to sit upright are wrapped around your     mid-section in multiple directions.  Core exercises are extremely important and relatively easy.  Check out our YouTube site for lots of great options.
Give yourself a hug!  Do you feel those muscles in your upper body?  Are they as strong and toned as you would like them to be?  I know that you've heard me say 'Push-ups' before but there is nothing that works that entire area better than the simple push-up.  Any surface is fair game, whether it's the back of a door, a counter-top or  even the floor – go for it and give me 20!  (Yes, 2 sets of 10 will work)
Love your body and it will treat you with results!