Easy enough for family, pretty enough for guests!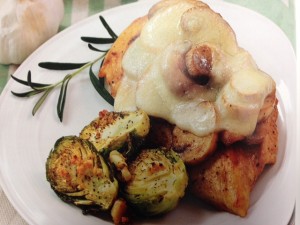 Ingredients
2 Tbls butter
4 boneless, skinless chicken breasts
Salt & pepper
8 oz. sliced mushrooms
2 Tlbs. Green onions, sliced
½ tsp. minced garlic
4 slices Swiss cheese
Directions
Heat butter in skillet over medium-high heat. When hot, add chicken breasts and sprinkle with salt & pepper.
Cook chicken until golden brown, about 3-4 minutes per side.
Add mushrooms and sprinkle with garlic powder and a little more salt & pepper.  Cover and cook an additional 5-6 minutes, or until juice from chicken runs clear.
Place rack in oven about 6 inches below broiler.  Set broiler on high and place chicken breasts on baking sheet. Top each breast with mushrooms and juices from pan. Top each with a slice of Swiss cheese and place under broiler.  Watch carefully, remove when cheese is melted and bubbly.
Makes 4 servings
Nutrition Facts:
Calories 405
Total Fat 15g
Total Carbohydrates 3g
Dietary Fiber .5g
Protein 63g
Print Recipe  Chicken with Mushrooms and Swiss Cheese
Adapted from Allrecipes.com