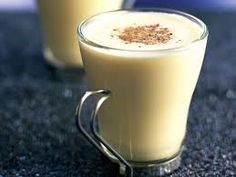 No need to skip this tradition just because you are watching your carbs!
Ingredients
6 oz. whole milk
1 medium egg
1 packet Splenda
1 tsp vanilla extract
1 pinch ground nutmeg
Directions
1. Pour milk into mug and microwave on high for 90 seconds.
2. Mix egg, vanilla, nutmeg & Splenda in blender and pulse.
3. Add hot milk and blend another 15 seconds.
4. Drop the cookie mixture using a tablespoon onto cookie sheet, lifting the spoon to create rounded mounds. Do not spread batter.
5. Pour back into mug and sprinkle with a little more nutmeg.
Makes 1 serving
Nutritional Information:
Calories:           192
Total Carbs         11g
Fiber                  0g
Fat              10.4g
Protein           11.5g
Print recipe for Low Carb Egg Nog
Adapted from dlife.com