Creamy, cheesy goodness – don't tell anyone it's low carb!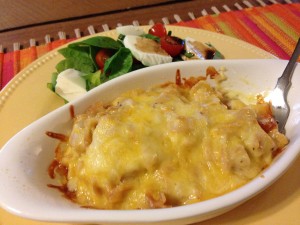 Ingredients
2 packets Proti Pasta
1 tsp avocado or olive oil
1 clove garlic, minced
¾ cup chicken stock
2 Tbls half and half
1 Tbls flour
3 oz reduced fat cream cheese
Salt & Pepper to taste
½ cup reduced fat sharp cheddar cheese, shredded
Cooking Spray
Directions
Cook pasta according to directions, drain and set aside.
Preheat broiler to high.
Heat oil in medium pan over medium-high heat. Add oil to pan and swirl to coat bottom. Add garlic and saute until tender but do not brown. Stir in ¼ cup chicken stock and bring to boil. Cook 1 minute.
Combine remaining chicken stock, half and half, and flour in bowl and stir with whisk until flour dissolves.
Stir milk mixture into pan and cook until it begins to thicken. Reduce heat and stir in cream cheese and ¼ cup sharp cheddar. Stir until melted and remove from heat.
Stir in pasta until coated. Add salt & pepper to taste.
Pour mixture into small baking dish or individual ramekins prepared with cooking spray.
Top with remaining cheddar cheese.
Place under broiler and turn to low. Broil for 3-4 minutes or until top is melted and slightly browned.
Makes 2 servings
Nutrition Facts:
Calories 365
Total Fat 19g
Total Carbohydrates 11g
Dietary Fiber 2g
Protein 34g