This dish is easily modified to fit your taste – add red pepper flakes or garlic for a more intense flavor!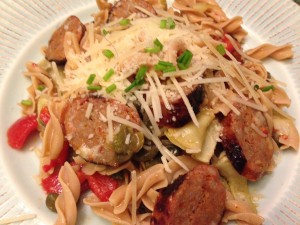 Ingredients
4 pkgs Proti low carb pasta
12 oz pkg chicken sausage
7.5 oz jar roasted red peppers
8 oz jar marinated artichokes
4 Tbls capers
1 Tlbs olive oil
2 Tbls Parmesan cheese
Directions
Cook pasta as directed, drain and put back in pot. Drizzle with olive oil.
Grill or cook sausage, slice and add to pot.
Drain roasted red peppers, slice and add to mix.
Drain artichokes, quarter if necessary and add to mix.
Add capers to mix and put back on medium low heat.
When pasta mixture is hot, serve and sprinkle with Parmesan cheese.
Makes 6 servings
Nutrition Facts:
Calories 230
Total Fat 8.5g
Total Carbohydrates 14g
Dietary Fiber 6g
Protein 34g
Print Recipe  Low Carb Sausage and Artichoke Pasta