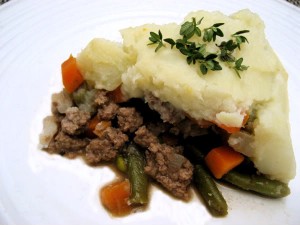 Ingredients:
4-6 pieces bacon, chopped
2 pounds ground beef
Small onion, chopped, 2.5 ounces
Salt and pepper
1/4 teaspoon toasted onion powder
1/4 teaspoon garlic powder
1 egg, beaten
8 ounces cheddar cheese, shredded and divided
16 ounce package frozen green beans
16 ounce package frozen cauliflower
3 tablespoons butter, divided
1/4 cup sour cream
1 tablespoon chives, minced
1 Packet Beef Bouillon Protein Soup Mixed with 4oz hot water
Directions:
In a large skillet, fry the bacon until crisp; drain well and set aside. In the same skillet, brown the hamburger and onion, seasoning with salt and pepper; drain the fat. In a 7 1/2 x 11 3/4″ baking dish, mix the hamburger, bacon, onion and garlic powders, and mixed bouillon. Check the seasoning for salt and adjust if needed, then stir in the beaten egg and half of the cheese. Spread over the bottom of a baking dish.
Meanwhile, in a medium pot, cook the green beans according to the package directions; drain well then return to the pot and stir in 1 tablespoon butter. Season to taste with salt. Spread the beans over the meat layer. In the same pot, cook the cauliflower 10-12 minutes until very tender; drain well. Put the cauliflower, 2 tablespoons butter and the sour cream in a food processor. Puree until smooth. Add the chives and pulse to blend. Adjust the seasoning, if necessary, then spread evenly over the green beans. Sprinkle the remaining cheese over the top. Bake at 350º for 35 minutes, until hot and bubbly.
Makes 8 very generous servings & freezes well
Per Serving: 433 Calories; 31g Fat; 32g Protein; 8g Carbohydrate; 3g Dietary Fiber; 5g Effective Carbs