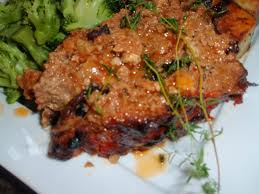 Ingredients:
2 eggs
1 cup finely chopped fresh spinach
1/2 cup sliced fresh mushrooms
1/2 cup plain bread crumbs
1/2 small yellow onion, finely chopped
1/3 cup 2% milk
1/3 cup crumbled blue cheese
2 tablespoons reduced-sodium Worcestershire sauce
1 tablespoon minced garlic
1/4 teaspoon cayenne pepper
1 pinch dried oregano
1 pinch dried basil
salt and ground black pepper to taste
1 1/2 pounds extra-lean ground beef
Directions:
Preheat oven to 350 degrees F (175 degrees C). Grease a loaf pan.
Mix eggs, spinach, mushrooms, bread crumbs, onion, milk, blue cheese, Worcestershire sauce, garlic, cayenne pepper, oregano, basil, salt, and black pepper together in a large bowl. Add ground beef and mix thoroughly with your hands; pack into prepared loaf pan.
Bake in the preheated oven until no longer pink in the center, 45 to 60 minutes. An instant-read
thermometer inserted into the center should read at least 160 degrees F (70 degrees C).
Nutritional Information: (per serving)
Servings Per Recipe: 8
Calories:                   257
Carbohydrates:             7g
Dietary Fiber:               .6g
Protein:                     23.9g
Adapted from Allrecipes.com    (printable recipe)
For this and more recipes like this, check out our Recipes and Menu Planning page!