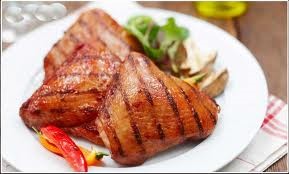 Ingredients
2 lb boneless skinless chicken breasts
3/4 cup packed light brown sugar (or use Splenda)
3/4 cup yellow mustard
1/2 cup cider vinegar
1/4 cup hot pepper sauce
2 tbsp vegetable oil
2 tbsp sauce, Worcestershire, low sodium
1/2 tsp salt
1/4 tsp black pepper
Directions
Mix together ½ cup of the brown sugar, the mustard, vinegar, pepper sauce, oil, Worcestershire, salt, and pepper.
Pour one cup of the mixture in a resealable plastic bag with the chicken and seal the bag (remove the air). Let the chicken marinate in the refrigerator for at least an hour.
In a small saucepan, bring the rest of the mixture and the sugar to a boil, then let simmer for about 5 minutes (until the mixture gets thicker).
Grill the chicken on a preheated and pre-oiled grill for 10-15 minutes.
Makes 8 servings.
Nutrition Facts:
Calories 251, Total Fat 5.1g, Total Carbohydrates 20.8g, Dietary Fiber 0g, Protein 29.8g