A great weeknight option – quick & delicious!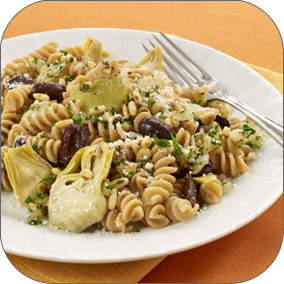 Ingredients
2 medium zucchini, sliced
6 packets Proti-Pasta, dry (6 cups)
1/3 cup olive oil
2 cloves garlic, minced
2, 9 ounce packages frozen artichoke hearts, defrosted
2 teaspoons lemon zest
1/4 cup lemon juice
1/3 cup Parmigiano Reggiano cheese, freshly grated
1 tablespoon fresh tarragon, chopped
Directions
1. Sprinkle zucchini with salt. Drain in colander 30-60 minutes.
2. Bring a large pot of water to a boil. Cook pasta, drain and return to pot.
3. Heat olive oil in a large skillet. Add zucchini and sauté until tender.
4. Add garlic and sauté 1 additional minute.
5. Add artichoke hearts, lemon zest and lemon juice-simmer for 2 minutes.
6. Add tarragon; mix well. Sprinkle with Parmigiano cheese and serve.
Makes 6 servings
Nutrition Facts:
Calories 336
Total Fat 3g
Total Carbohydrates 25g
Dietary Fiber 4g
Protein 25
Print recipe Pasta with Artichokes Lemon and Zucchini
From Proti