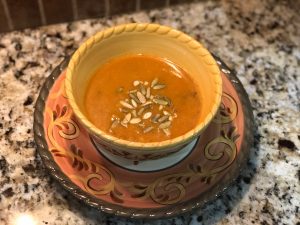 Perfect for a chilly Fall evening!
Ingredients
1 lb. pork sausage
1 medium white onion, chopped
1 clove garlic, minced
4 cups chicken broth
1 (15 oz) can pumpkin puree
¼ cup half & half
Salt & pepper to taste
Directions
Brown sausage with onion and garlic. Drain excess fat and set aside.
In medium saucepan, whisk together chicken broth and pumpkin puree.
Add sausage mixture and stir. Heat over medium high heat until hot and turn down heat to simmer. Add half & half and season to taste.
Garnish with pepitas or toasted pumpkin seeds.
Makes 6 servings
Nutrition Facts:
Calories                       224
Total Fat                       12g
Total Carbohydrates       9g
Dietary Fiber                   3g
Protein                          20g
Print Recipe: Pumpkin Sausage Soup
Note: You may substitute turkey sausage for the pork.