No mess – no fuss – what's not to love?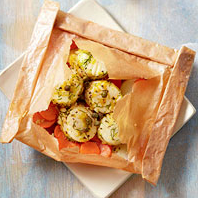 Ingredients
4 cups water
3/4 pound new potatoes, cut into 1/4 -inch-thick slices*
1 1/2 cups thinly sliced carrots
3 tablespoons olive oil
2 teaspoons minced garlic
1 teaspoon salt
1/2 teaspoon black pepper
1 1/2 pounds sea scallops
Zest of 2 lemons
2 tablespoons chopped dill
2 teaspoons capers, rinsed and drained
Directions
1. Preheat the oven to 400 degrees F. In a medium saucepan, bring water to a boil over high heat. Add potatoes (or cauliflower) and carrots and cook until both can just be pierced with a knife and water has just returned to a boil, about 3 minutes. Drain, run under cold water and drain again.
2. In a medium bowl, toss together potatoes and carrots, 1 tablespoon oil, 1 teaspoon garlic, 1/2 teaspoon salt and 1/4 teaspoon pepper. In a separate bowl, combine scallops, lemon zest, dill, capers and remaining oil, garlic, salt and pepper.
3. Divide potatoes and carrots among four 12-by-15-inch rectangles of parchment paper or aluminum foil. Top each with 1/4 of the scallops. Fold parchment or foil over scallops to make packets. Place packets on two rimmed baking sheets and bake on separate racks until scallops are just cooked through, 10 to 14 minutes.
Makes 4 servings
Nutrition Facts:
Calories 290
Total Fat 11g
Total Carbohydrates 25g
Dietary Fiber 3g
Protein 23g
*For a lower carb option, use cauliflower in place of potatoes
Print Recipe Scallop Packets with Dill and Garlic
Adapted from fitnessmagazine.com