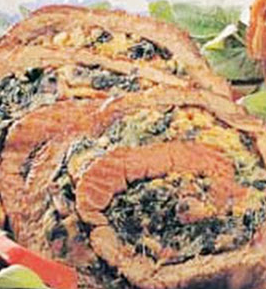 Ingredients
1 each fresh spinach, 10 oz. package
7 oz canned artichokes hearts, drained
1 tbsp grated Parmesan cheese
1 each medium garlic cloves
1 tbsp chopped parsley
2 tbsp bread Crumbs, garlic & herb
1 tbsp olive oil
1 1/2 lb beef, flank steak, London broil, lean, raw, choice, 0″ trim
Directions
Combine the spinach, artichokes, cheese, garlic, parsley, breadcrumbs, and 1 teaspoon olive oil in a medium bowl.
Pound the flank steak to 1/2-inch thickness for easier rolling.
Place the steak in a large baking dish and sprinkle the spinach mixture over the steak, evenly covering the top. Starting with the long edge, roll up the steak and tie it tightly with twine.
Heat the remaining olive oil in a large, nonstick skillet over medium-high heat and brown the steak for about 5 minutes, being sure to brown both sides.
Place steak on a baking sheet and bake at 450 degrees F for approximately 15 minutes.
Let rest for 3-4 minutes. Remove the twine and slice evenly.
.
Makes 6 servings.
Nutrition Facts:
Calories 253
Total Fat 11.2g
Total Carbohydrates 7g
Dietary Fiber 3.5g
Protein 31g
Print recipe Artichoke and Spinach Steak Pinwheels
From dLife.com