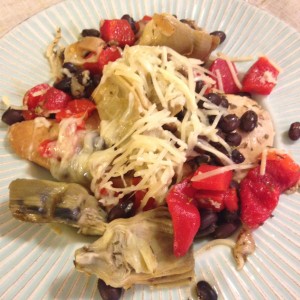 Serve right from the skillet!
Ingredients
2 Tbls olive oil
4 chicken breast halves
1 tsp sea salt
1 tsp fresh ground pepper
1 tsp oregano
½ tsp thyme
½ yellow onion, diced
3 cloves garlic, minced
8 oz baby bella mushrooms, sliced
1 pkg frozen artichoke hearts
½ cup sun-dried tomatoes, chopped
1 can black beans, rinsed
1 jar (15 oz) roasted red peppers
½ cup shredded Parmesan cheese
Directions
Season chicken with salt & pepper. Heat olive oil in skillet and brown chicken on both sides over medium-high heat. Add onions half way through, brown slightly.
Add mushrooms, garlic, tomatoes & artichoke hearts. Stir in oregano & thyme and cook covered for 5 minutes.
Add remaining ingredients and allow to heat through. Sprinkle on Parmesan cheese and cover until it starts to melt.
Makes 4 servings
Nutrition Facts:
Calories 345
Total Fat 8g
Total Carbohydrates 24g
Dietary Fiber 10g
Protein 42g
Print Recipe: Tuscan Chicken Skillet