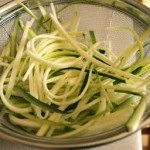 3 large zucchini, julienned into ¼" wide strips
1 tablespoon extra virgin olive oil
1 clove garlic, minced
½ medium onion, chopped
1 cup sun-dried tomatoes, chopped
1 cup finely chopped pre-cooked sweet Italian turkey sausage (optional)
2 tablespoons Fox Point Seasoning blend (available from Penzey's)
½ cup half and half
4 oz goat cheese, crumbled
1 cup basil, finely chopped
Using a mandolin with a ¼ julienne blade, slice off the tops of each zucchini and pass over the blade until you have long ¼" wide ribbons.  This can also be done with a hand held julienne vegetable peeler.
In a large skillet over medium heat, add the olive oil and chopped onion and sauté until translucent. Toss in the minced garlic and cook until fragrant. Add the sundried tomatoes and sausage, if using, and heat  through. Salt and pepper to taste.
Toss in the zucchini noodles and add the Fox Point Seasoning blend. If you don't have that on hand, you may season with salt and pepper and continue cooking 3-5 minutes.
Reduce the heat to low and add in the half and half and crumbled goat cheese. Stir until the cheese has melted through then toss in the chopped basil. Serve in a big old bowl and watch your family be amazed at the fact that there is no pasta in this dish!
Serves 4
Nutritional Info: One serving is less than 8g of effective Carbohydrate
Print Recipe Zucchini Fettuccini with Goat Cheese and Sundried Tomatoes