The New Year is a great time for a fresh perspective and new start towards what you want to accomplish.  My wife and I sit down every year (a great excuse for date night) and map out our personal, family and professional goals for the year.  Prior to this "date", we individually list what we plan to accomplish and then mesh them together (especially the family ones).  Afterwards, we make sure to put it all in writing and we each post it so the goals remain top of mind.  It is actually very inspiring and a lot of fun to do…and even more exciting as we meet throughout the year to monitor our progress and make sure we are staying on track.
But your 2014 goals won't magically be met.  Goals will only be achieved if you are willing to change your behavior.  One of the things that will determine eventual success or failure in making your behavior change is your answer to these two questions:
Can I do it?
Is it worth it?
If you cannot answer "Yes" to both of those questions, your likelihood of success is…dare I say…doubtful. However, if you can answer "Yes" to both of these questions, there is no limit to what you will be able to accomplish.  Stay focused, monitor your progress, take it one step at a time, ask for help when you need it, don't be afraid to falter…then pick yourself right up again and most importantly…enjoy the journey along the way.  It's a new year!  You can do it!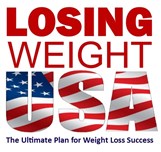 If you haven't already joined the hundreds of members of Losing Weight USA – now is your chance!  It's your direct access to the weight loss expert – Subscribe today!