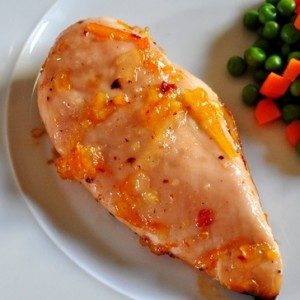 Ingredients
2 boneless, skinless chicken breasts,
1/2 white onion, thinly sliced
3/4 cup orange juice with pulp
1 teaspoon ground ginger
1/2 teaspoon ground coriander
Directions
Season chicken to taste with salt and pepper.
Heat large nonstick skillet over medium-high heat. Coat pan with cooking spray. Add chicken; cook 3 minutes on each side or until browned.  Remove chicken from pan; keep warm. Add onion to pan. Cook until onion is tender. Stir in orange juice, ginger and coriander. Return chicken to pan. Bring to boil; reduce heat.
Simmer uncovered, 6 minutes or until chicken is cooked and sauce is thickened.
Serve with steamed broccoli or green beans sprinkled with a little shredded Parmesan.
Add a green salad and you're set!
Makes 2 servings
Nutrition Facts:
Calories 190
Total Fat 3g
Effective Carbohydrates 15g
Protein 29g
Print Recipe – Spiced Orange Chicken